Bakers and caterers in Lagos State have reportedly reduced the sizes of their products to survive the prevailing high cost of production.
The bakers and caterers made the disclosure in separate interviews with the News Agency of Nigeria (NAN) in Lagos.
They noted that the current rate of the naira to the dollar and scarcity of fuel had impacted negatively on their costs of production.
The President, Association of Master Bakers and Caterers of Nigeria (AMBCN), Mr Jacob Adejorin, said sales were low due to scarcity of fuel for distribution of products.
The Minister of State for Petroleum, Mr Ibe Kachukwu, had declared  on Tuesday in Abuja, that the present fuel scarcity would end within days.
According to the News Agency of Nigeria, at the parallel market, a dollar exchanged for N305, this reportedly shot up from the official N199 on Wednesday.
Adejorin told NAN that the prices of bread had increased, while the sizes had also reduced due to high cost of production, noting that since the increase in exchange rate, things have been hard for bakers.
These are his words!
"The cost of production has increased tremendously due to the high cost of importation of flour and other additives in bread and confectionaries.
"We are merely surviving. The cost of flour had increased from N6,000 to about N9,500 per bag.
"Recently, bakers were forced to reduce the quantity of the bread and pastries, leaving customers to complain. As a result, there are reports of unsold by members of the association. If people are unable to afford bread and pastries, I wonder what they will be eating."
Also speaking, the President, Lagos State Caterers and Decorators Association, Mrs Clementina Oladipo, said the fuel scarcity has made business difficult.
She stated that  the poor electricity supply had also worsened the situation as members relied on power for production.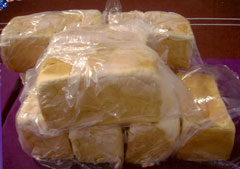 Please follow and like us: