African almonds are also known as Tropical almonds. These fruits, which come in yellow, green, wine, violet, baby pink and peach colours, respectively, amongst others are popularly known as "fruit" in West African Nigeria.
Botanically known as Terminalia catappa, these tropic fruits, depending on the tropical region where they are, are commonly referred to as country almonds, Indian almonds, Malabar almonds, sea almonds, tropical almonds, beach almond] and false kamani amongst others.
According to farmweekly.co.za, there has been a sustained upward trend in the consumption of almonds in South Africa over the past few years., with the latest figures from the International Trade Council showing that, from 2001 to 2017, South Africa's almond imports increased at a compounded annual growth rate of 7,3%.
They increased by 2,8% to 2 713t in 2017, from 2 639t in 2016. In 2017, almond imports were valued at about R250 million. More than 90% of almonds that are imported to South Africa are already shelled, which means that processing activities take place in their country of origin.
Reports say, South Africa produces only about 200t to 300t of almonds a year, mainly in the Western Cape, and currently has a negative trade balance in almonds.
FOOD FACTS
Reports say both globally and locally, the increase in almond consumption has been influenced by a growing middle class, especially because the midddle class is more health- and lifestyle-conscious.
The proponents of the paleo diet, Banting and other fashionable diets have identified almonds and other tree nuts as sources of valuable essential nutrients, especially protein.
The popularity of the nuts has led to a global increase in the global price of the nuts.
This, coupled with the fact that major producing countries cannot increase production because of limited farming land, represents a good opportunity for South Africa to increase its own production.
Almonds grow well in a Mediterranean climate, and the Western Cape is best suited for the production of almonds in sub- Saharan Africa.
A study says if well planned almond production could be more profitable compared to deciduous fruits like apples, peaches, plums and pears, which have historically been more profitable.
COMPONENTS OF AFRICAN ALMONDS
These fruits contain certain minerals which are very important to human health because they serve as cofactors for many metabolic processes in the body.
They contain several minerals and vitamins that perform essential functions and add nutritional values that contribute positively to healthy living
Eating these fruits will help to reduce cholesterol, this is because both the fruits and seeds of tropical almond fruit contain calcium and significantly reduce cholesterol in the body.
Constant eating of almonds can help to increase the high-density lipoproteins (HDL) in the cholesterol level of the body.
Eating these tropical fruits equally help to reduce the low-density lipoproteins (LDL) cholesterol levels.
Almonds help to reduce inlammation, this is owing to the fact that the seeds of these tropical fruits have an oil content that reduces inflammation in the abdominal cavity.
They contain two very essential fatty acids, which include linoleic and linolenic acids.
These two fatty acids help in lowering inflammation all around the body.
Fatty acid also aids in reducing LDL cholesterol levels and improves healthy skin and hair. Therefore consumption of almonds will contribute significantly to reducing inflammation in the entire body.
Tropical almonds nuts are a rich source of dietary phosphorus, vitamins, minerals. Phosphorus plays an essential role in bone formation and the repair of cells in the body.
Regular and moderate consumption of tropical almonds helps to build strong bones and teeth due to their richness in phosphorus and vitamins.
Research, according to www.finelib.com has shown that tropical almond fruits contain zinc and manganese, which helps in the proper functioning of the immune system and metabolism of fat and carbohydrate, among others.
Manganese and zinc, essential minerals necessary for the development, growth, and normal functioning of the body and the immune system to function correctly, are all packed full in almonds, making them a good fruit for healthy living.
Almonds are rich in fiber contents that prevent the body from certain illnesses.
A high intake of fiber helps in reducing the risk of developing various conditions like diabetes, heart diseases, constipation, and others.
Therefore regular intake of almonds effectively protects your health from getting ill and keeps you very healthy.
The presence of folic acid in the fruits help iron present in the fruits to work properly in the body.
Eating almonds can help in stimulating healthy tissue formation and cell growth, especially for pregnant women, moreso as doctors usually prescribe a folic acid supplement to women during pregnancy to ensure good tube development, keeping mothers and their babies healthy.
They can help in weight loss. The monounsaturated fat that is present in almonds aids in satisfying the appetite and reduces much eating.
The dietary fiber found in almonds aids in keeping one full for a long time and this helps erratic bowel movement, which contributes to weight loss.
People who consume almonds regularly are more likely to maintain their ideal weight.
Almonds are a rich source of many nutrients that contribute to the proper development of the human brain and even considered to be an important food for growing children.
These fruits contain two essential brain nutrients such as L-carnitine and riboflavin, which help significantly increase brain activity, leading to new neural pathways and lowering the occurrence of Alzheimer's disease.
Eating almonds help in controlling the processing and glucose absorption, thereby making the process very smooth and safer.
Almonds are one of the essential fruits for the control of blood sugar levels in the body.
The presence of monounsaturated fats, potassium, and protein in almonds is beneficial for the heart's health.
Magnesium helps prevent heart attacks, and vitamin E found in the fruits are also an effective antioxidant that fights against the risk of heart diseases.
Almonds help in reducing the presence of C-reactive proteins (CRP) that cause artery-damaging inflammation.
Almonds can enhance the movement of food through the colon, thereby preventing an increase in colon cancer and its occurrence.
Studies have shown that peanut, walnut, and almond consumption protective affect breast cancer development, thus, almonds if eaten regularly as can help reduce the risk of breast cancer because they contain a substance that can prevent cancer and havs antioxidant content.
Read more – finelib.com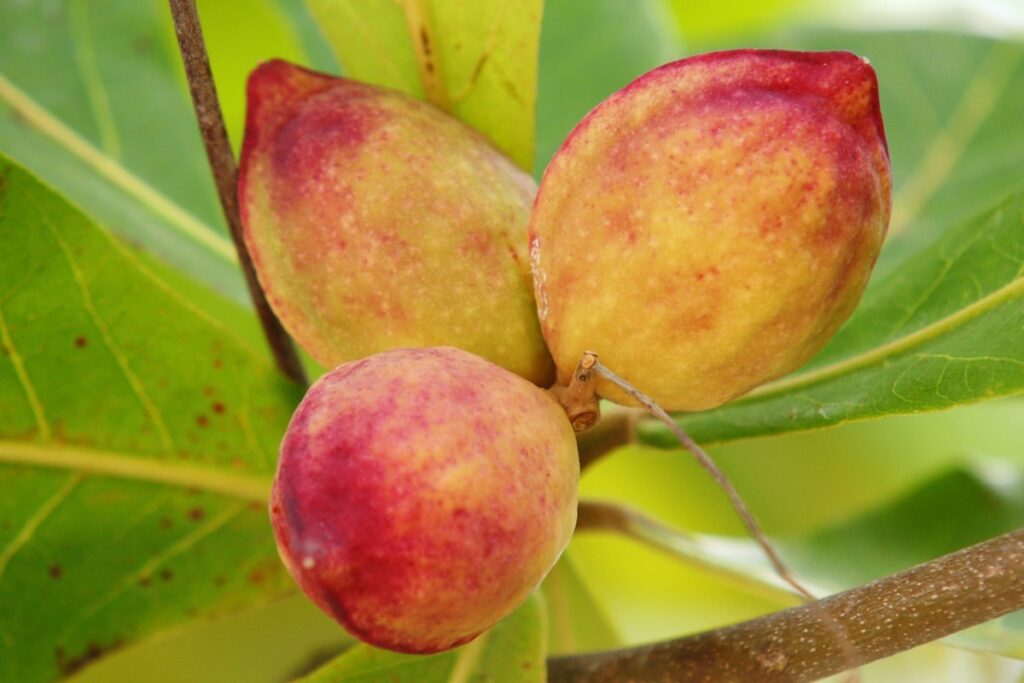 Nutritional Facts of Tropical Almonds
Nutrients
Amount
Energy
575 Kcal
Carbohydrates
21.67 g
Protein
21.22 g
Total fat
42.42 g
Cholesterol
0 mg
Dietary Fibre
12.20 g
Folates
50 ug
Niacin
3.385 mg
Pantothenic acid
0.47 mg
pyridoxine
0.143 mg
Riboflavin
1.014 mg
Thiamin
0.211 mg
Vitamin A
1 IU
Vitamin C
0 mg
Vitamin E
26 mg
Sodium
1 mg
Potassium
705 mg
Calcium
0.996 mg
Iron
0.20 mg
Magnesium
268 mg
Manganese
2.285 mg
Phosphorus
484 mg
Selenium
2.5 mg
Zinc
3.08 mg
Carotene-ß
One ug
Crypto-xanthin-ß
0 ug
Please follow and like us: