The frontline of global warming is on farms. But the story is about much more than hunger.
The village of Nowcaca is nestled in the verdant hills of northwestern Mozambique, some 600 miles north of the coastal capital Maputo. A footpath winds through a sea of shoulder-high grasses, leading from a two-lane highway back to a dusty plot where Amelia Tonito grows onions, tomatoes, and cabbage. Amelia presses her hand into the soil, next to a few meager green sprouts.
Rainfall has been sparse this year, and without the money to buy fertilizer, her optimism for a profitable harvest is waning.
"We only produce enough to eat," she says. "But we'd like to produce enough to eat and to sell."
Across all of East Africa, farmers like Amelia are facing the same problem.
Persistent rural poverty and food insecurity have long been a fact of life here. Rapid population growth—sub-Saharan Africa's population is expected to double by 2050, the fastest rate of growth anywhere on Earth—only threatens to make those problems worse.
Now, a new threat has arisen: Climate change, which is raising temperatures even as it disrupts the seasonal rains on which Amelia's crop depends. East Africa is roughly 1.5 degrees F warmer now than it was in the 1980s; during the same period, rainfall during the primary rainy season fell by 15 percent, according to climatologist Bradfield Lyon of the University of Maine.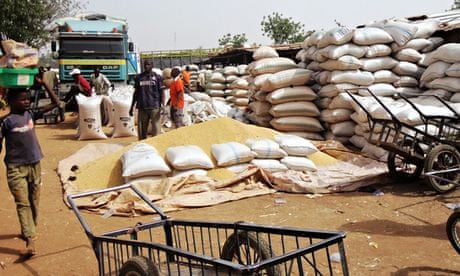 Emerging research indicates that climate change could drive down yields of staples such as rice, wheat, and maize roughly 20 percent by 2050.
Read more on http://voices.nationalgeographic.com/
Please follow and like us: