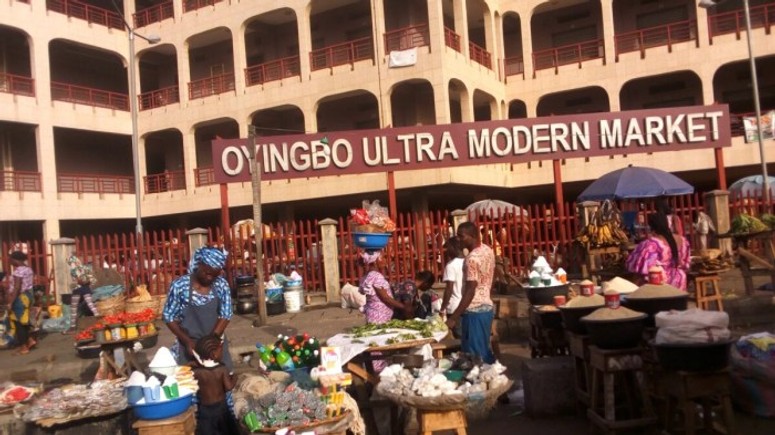 Many of food traders at Oyingbo market, downtown Lagos, Nigeria have raised their voices against the prolonged closure of the market by Folashade Tinubu-Ojo, leader of markets association in Lagos. 
The traders alleged that the lockdown of the market, which has gone on for 13 days, is due to their failure to pay a N5 million naira fine demanded by Mrs Tinubu-Ojo, the daughter of former Lagos governor and presidential hopeful, Bola Tinubu.
Marketers, in their numbers reportedly staged a protest, displaying placards with inscriptions such as: "Folashade Tinubu-Ojo, Ahmed Tinubu's daughter leave Oyingbo Market alone. Mainland Local Government, hear our cry."
Reports say the traders had on Tuesday morning forcefully entered the market premises and found their goods perishing after days of shutout without access,
The aggrieved traders displayed the decayed goods on the floor while they expressed their displeasure over the loss of their goods to decay.
Oyingbo market is predominantly a foodstuffs haven where tonnes of perishable goods were stocked and sold daily.
A member of the market committee, when contacted, disclosed that Tinubu-Ojo had visited the market to inspect the market months back and complained about poor sanitation.
Owing to the complaints, the market authorities decided and agreed with her to temporarily close the market to carry out required sanitation.
But the traders are lamenting that after the market committee had finished cleaning the premises, Tinubu-Ojo further requested that the traders must pay a fine of N5 million  before the market will be reopened.
Chairman of Oyingbo Footstuff Traders Association, Victor Chukwu, also explained that the Iya Oloja General of Lagos State, Folashade Ojo visited the market and as she complained about the dirt in the market, they cleaned the place, but even without arguing with her, she appealed to her.
Victor however stated that after cleaning the market, she refused to allow the traders to open the market.
Please follow and like us: