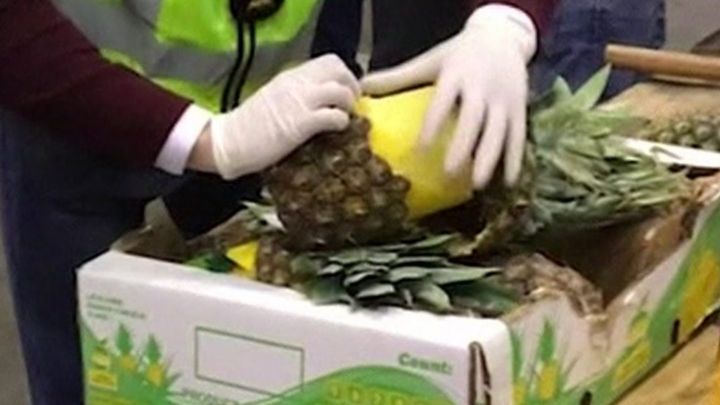 Police in Portugal and Spain have reportedly  seized cocaine hidden inside fresh pineapples.
Spanish authorities said the gang, led by two Colombian brothers, had laboratories in the municipalities of Pinto and Nuevo Baztan near the capital Madrid.
Police officials in Portugal and Spain joined forces in an operation which resulted in the seizure of more than 700 kilograms of cocaine hidden inside pineapples.
Reports say the cocaine was expertly coated in a pineapple-yellow wax and hidden inside hollowed-out shells of the fruit, according to the Spanish interior minister.
A subsequent release by the police also disclosed that two hydraulic presses, three packaging machines and over 400,000 cash in euros were among the things found in the raids.
Owing to this discovery, nine people, who are reported to be members of gangs were detained and charged following the discovery of the drugs, Business Insider reported.
The fruit-disguised drug was found in shipping containers from South America.
Police hauled in 1,642 pounds of the drug while also shutting down a drug prep laboratory. Traffickers use the Iberian Peninsula is a major entryway to smuggle drugs to Europe.
According to a Telegraph report, in 2014, a shipment of 2.5 tons of cocaine-filled pineapples were seized in Spain on a ship from Costa Rica.
Please follow and like us: