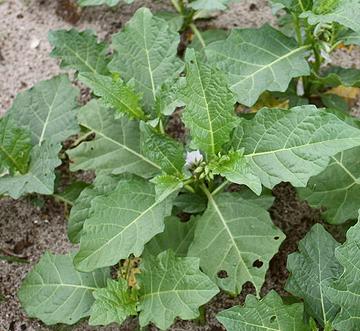 GARDEN EGG LEAVES ARE PLANTED AND HARVESTED IN ABUNDANCE IN NIGERIA.

LOCALLY KNOWN AS AKWUKWO AHARA IN IBO LANGUAGE, THIS GREEN VEGGIES ARE KNOWN AS EFO IGBO IN YORUBA LAND.
BOTANICALLY CALLED SOLANUM AETHIOPICUM, THE GARDEN EGG LEAVES CAN ALSO BE KNOWN AS EGG PLANT.
THE AMOUNT OF BITTERNESS DEPENDS ON THE LEVELS OF SAPONIN IT CONTAINS.
SOME OF THE LEAVES HAVE SWEET FLAVOUR BUT OTHERS VERY BITTER.
THESE LEAVES CONTAIN BASIC NUTRIENTS AS VITAMIN B, C, POTASSIUM AND CALCIUM.
RESEARCHERS HAVE RECENTLY DISCOVERED THAT GARDEN EGG LEAVES ARE RICH IN PHYTOCHEMICAL, WHICH PROTECTS THE BODY FROM CANCER FORMATION.
THEY ARE ALSO HIGH IN POTASSIUM, A NECESSARY SALT THAT HELPS IN MAINTAINING THE FUNCTION OF THE HEART AND REGULATES BLOOD PRESSURE.
REGULAR CONSUMPTION OF GARDEN EGG LEAVES HELP IN CONTROLLING THE BLOOD SUGAR LEVEL, THIS IS DUE TO ITS HIGH FIBER AND LOW CARBOHYDRATE LEVEL.
GARDEN EGG LEAVES CAN BE USED TO PREPARE VEGETABLE STEWS, YAM DISHES, SALAD OR EVEN EATEN RAW.
SOUTH EASTERN NIGERIANS USE THE GARDEN EGG FRUITS AS A SUBSTITUTE FOR KOLA-NUTS, ESPECIALLY FOR THOSE WHO DO NOT WANT TO CHEW THE KOLA-NUTS.
IN THE SAME VEIN, THE FRUITS ARE USED TO WELCOME GUESTS BEFORE THE RESUMPTION OF ANY TRADITIONAL CEREMONY.
Please follow and like us: