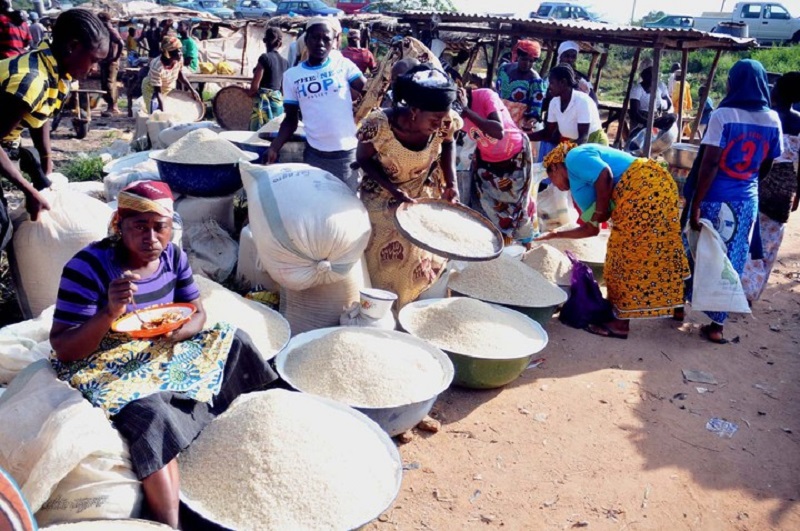 Owing to the coronavirus pandemic that has spread to Nigeria and necessitated a lockdown in some states of the federation, prices of food as an essential commodity and most staples have skyrocketed uncontrollably.
One of such staple food is GARRI, It is processed from cassava and it is always in grain form until it is prepared with hot water and converted into EBA.
Nigeria and many other West African countries are proud producers of garri.
This staple, before the lockdown, was sold for 500 or 600 naira, per plastic in many parts of Lagos State and many other states.
But the panic buying and the quest to stock up the house in the wake of the coronavirus lockdown suddenly affected the price as many places in the Federal Capital Territory, Abuja, as well as Lagos, saw the prices move to 1000 or even more per plastic.
Well in Edo State, the hike, however, led to violence as Oregbeni market in the Ikpoba-Okha Local Government Area of Edo State turned to a wrestling ground.
Reports say on Thursday, April 2, 2020, protesting buyers pounced on sellers of garri in the market.
They also beat and forced them to reduce the cost of garri which had been increased by over one hundred percent above the normal price.
Following the partial lockdown imposed by Edo State government as part of efforts to contain the spread of the coronavirus, the price of garri rose from N1, 600 to N2, 800 per plastic while a bag which was N8000 before now rose to between N12, 000 and N15,000.
The residents, who had remained indoors, went to the market only to find the prices of food items beyond their reach.
This also affected the costs of food at roadside canteens, which equally rose from N100 per plate of rice to N150.
But the residents, angered by the sudden increase in the price of food items in the market, compelled the market women to reduce the prices.
The situation later became rowdy as more customers in the market gathered to protest the price hike and later pounced on the market women and beat them up.
Following the outbreak of violence in the market, the market women association immediately met and reversed the prices of all the food items to the old prices.
Buyers noted that it was unfair on the part of the market women to increase the cost of food items knowing that people could not go to work again because of coronavirus.
They wondered why the price of food items would suddenly go up within such a short period.
Many have however expressed delight at the action of the youths which resulted in the reversal of prices of food items.
They queried the fact that garri is not an imported food item and thus, there was no need for a sudden hike in its price.
Please follow and like us: