The scourge of the coronavirus pandemic is biting hard across the nations of the earth.
Many have travelled to endless eternity. Our hearts go out to as many who are trying to contain the effect of COVID-19 across the world and those who have paid with their lives. We pray for the comfort and consolation of all.
Well, it is no longer news that the effect of the pandemic, has forced people to sit at home and wait until the scourge is over.
While waiting, we must eat, because we cannot imagine a world without food.
Here is a simple fruit parfait you can make for yourself and your family.
It is very simple and easy to prepare.
If you don't have any of the fruits I have listed, or you are not comfortable with any of these fruits, you can use what you can readily lay your hands on, or better still what you are comfortable with.
Usually, some tablespoons of fresh farm yoghurts, sweetened or unsweetened are good accompaniments, and of course with some crushed nuts – like cashew nuts, almond nuts, peanuts, or any other nuts you can lay your hands on.
This homemade parfait is very sedative. After taking this vitamin-enriched delicacy, you will discover that all your nerves relax easily.
Believe me, you can doze off immediately and sleep soundly for a long time. I tried it and it worked in a miraculous way.
This is not a time to be stressed with anxiety and worries over the global vagaries of life. It's rather a time to stay home, stay safe and be calm and serene in your inner man. All will be well.
Let's go.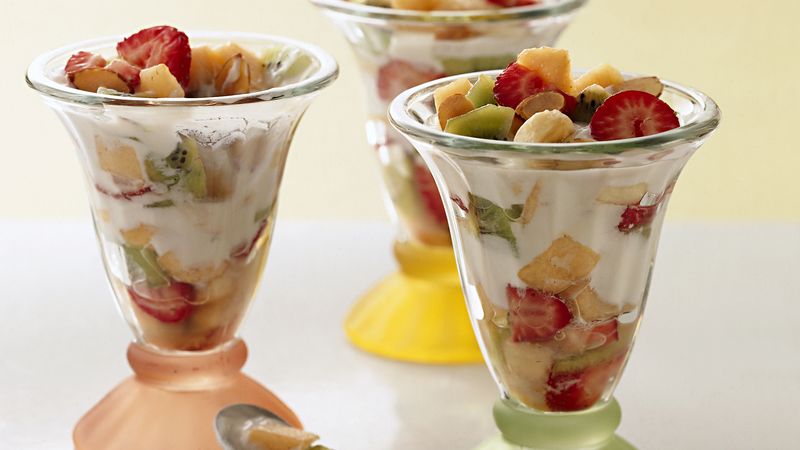 Recipe for 2 servings
1 cup diced red apples
1 cup diced fleshy fresh mangoes [deskinned]
1 cup diced green apples
1 cup seedless grapes
1/2 cup halved strawberries
1/2 cup blueberries
1 cup diced watermelon
1 cup diced bananas
1 cup diced peeled cucumbers
1/2 cup crushed nuts [cashew nuts or any other]
3 cups sweetened or unsweetened yoghurt [it can be plain or flavoured into any colour]
Method
Get a bowl or sizeable glass cup
pour in some yoghurt into the container
Begin the add all the diced fruits gradually
You can begin with any of the fruits
Add the apples, the cucumbers, and others.
Finally, add the remaining yoghurt.
Garnish with some strawberries, pineapples, blueberries or any of the fruits you have remaining.
Toss some nuts all over the parfait
It is ready. Go ahead and relish
Please follow and like us: