Cereals giant Kellogg's is to cut the amount of sugar in its three top selling children's cereals by between 20% and 40% by the middle of next year 2018.
The lines are Coco Pops, Rice Krispies, and Rice Krispies Multi-Grain Shapes!
Reports say Kellogg's will also stop selling Ricicles and end on-pack promotions aimed at children on Frosties.  This comes amid pressure on food firms to cut sugar levels to combat obesity.
But one nutritionist told the BBC the company was not going far enough.\
Kellogg's UK managing director Oli Morton told Radio 5 Live's Wake Up To Money podcast that "consumers are asking for a healthier way to start the day" stating that the company recognised "people are eating too much sugar at breakfast and throughout the day".
According to the sugar chart by product and age, there is a plan  to reduce the amount of sugar in Coco Pops from 30g per 100g to 17g, a 40% reduction.
Kellogg's stated that this is following a reduction of 14% earlier this year, meaning that from 2017 to 2018, it will have halved the sugar in Coco Pops.
But other sugary cereals like Frosties and Crunchy Nut will not change as sugar in Rice Krispies will be cut by 20% and in Rice Krispies Multi-Grain Shapes it will be reduced by 30% per serving.

The government recommends that children aged between seven and 10 should eat no more than 24g of sugar, or the equivalent of six sugar cubes, per day.
The new Coco Pops recipe, which is due to be introduced in July 2018, will mean that a 30g serving of the cereal will contain 5.1g of sugar, or just over one 4g sugar cube that compares with 9g, or more than two sugar cubes, under the old recipe.
Sugar targets set for cakes and chocolate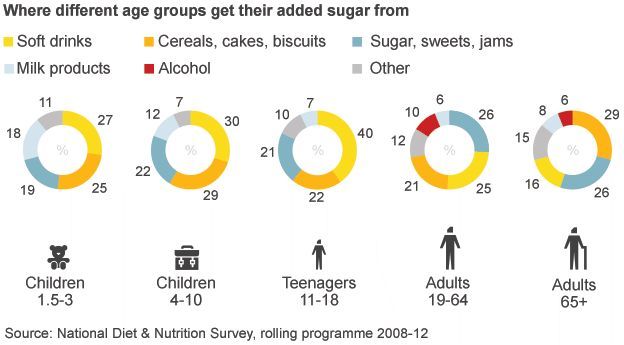 Dr Anna Robins, a senior lecturer in exercise, nutrition and health at the University of Salford, told the BBC's Wake up to Money programme: "Any move to be helping the general public to make healthier choices is a good one.
She said that under the new recipe, 30g of Cocoa Pops would still mean a child under the age of 11 had consumed one sixth of the added sugars allowed for the whole day by the end of breakfast.
She also pointed out the 30g serving used by Kellogg's as a serving example was well under what most people would eat at home.
Earlier this year sugar limits for everyday foods such as biscuits, chocolate bars and cereals were published by public health officials in an effort to make UK children more healthy.
In March officials at Public Health England called on food firms to cut sugar by 20% by 2020, and by 5% this year.
It said the food industry should try lowering sugar levels, reducing product size or pushing healthier products.

The sugar guidelines form part of the government's plan to curb childhood obesity, set out in August 2016.
Officials in Scotland, Wales and Northern Ireland were also been involved in producing the guidelines.
A sugar tax on the UK soft drinks industry has already been announced and will come into force next April.
@bbc.com
Please follow and like us: