…mangoes in  one of the Nigerian markets!
I begin this post with this food riddle!
I AM A DRUPE!
 AFTER EATING ME, YOU MUST THROW MY SEED AWAY!
I AM RICH IN IMPORTANT  VITAMINS!
MY COLOURS RANGE FROM GREEN TO YELLOW, RED AND ORANGE, DEPENDING ON MY MOOD, WHAT AM I?
ans  –  MANGO
…red mangoes!
Rich in vitamin c and b, mangoes are back on most market stalls. Not only vitamins, magnesium, potassium, calories, protein, little carbohydrate and fibres are also "enclosed within" these oval or kidney shaped edible drupes.
Sweet tasting and succulent mangoes are abundantly available at affordable prices, this season. Rather than consumed foods that are hazardous to your health, mango consumption can best be described as a must-do for a healthy lifestyle.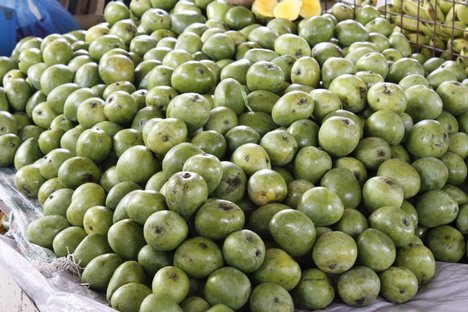 …Nigerian cherry mangoes!
There are different types of mangoes. Apart from the popular cherry mangoes, other species are equally succulent and tasty. It, however, depends on one's taste.
Equally available are the red, yellow, green, german, kerosene mangoes and many others.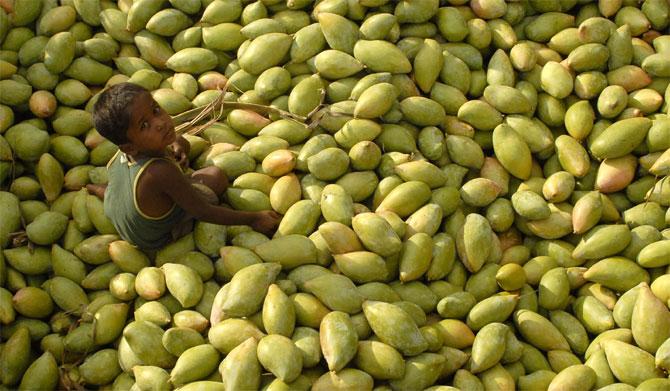 … indian mangoes!
Classified as mangifera indica, they belong to the botanical family of anacadiaceae. Although members of the cashew family, mangoes basically are native to Asian counties like Burma and India. Even now world countries in Asia, Africa and America cultivate and enjoy mangoes.
For excellent choice of weight control and general health, mangoes are the answer. Also for better digestion and blood glucose control, mangoes are still a good bet. Coupled with these facts are the energy giving function of these fruits. Mangoes also have fructose (it is energy giving although low on gugreemic index).
Mangoes could be eaten raw and fresh especially, after careful washing.
Pudding, deserts, tasty drinks and other delicacies can also be extracted from mangoes. Enjoy some of the best mango recipes.
Mango tea
Recipe for 4 servings:
4 tablespoons unsweetened tea
4 cups mango juice
1 cup lemon juice
1 cup lime juice
1 cup orange juice
¼ cup sugar
2 tablespoons honey
Hot and cold water
Preparation:
Combine the tea, sugar and honey together.
Add hot water and stir until the sugar dissolves.
Stir in the juices, add cold water and serve over ice as tea.
Mango yoghurt shake
Recipe for 4 servings:
2 tins evaporated milk (chilled)
6 ripe mangoes (sliced)
2 cups yoghurt, chilled (any type)
2 tablespoons sugar
2 tablespoons honey
1 teaspoon grated lemon rind
Preparation:
Pour every thing into a neat blender, blend for 15 seconds and poor in a big jug. Mix thoroughly and serve in glasses as yoghurt.
Mango sprinkler
Recipe for 6 servings:
4 cups of fresh mango juice
2 teaspoons grated mango rind
1 teaspoon lime or lemon rind
½ cup sugar
2 teaspoons honey
Water
Preparation:
Bring the sugar and water to boil in a saucepan, stir constantly until the sugar dissolves.
Remove from heat and stir the other ingredients.
Pour the mixture through a strainer into a pitcher or a jug.
Discard the rinds and serve with snacks.
Mango sundae
Recipe for 2 servings:
2 ripe mangoes (peeled and finely chopped)
2 bananas (finely chopped)
1 whole pineapple (peeled and chopped)
1 tablespoon lemon juice
1 scoop vanilla ice cream
1 teaspoon sugar
1 cup mango juice
Preparation:
Combine the mangoes and bananas in a blender and blend.
Pour into a jug and stir the juices.
Place the vanilla ice cream in a dish and pour the mango mixture over it.
Chill and serve.
Mango chicken breast
Recipe for 4 servings:
4 boneless chicken breasts (halved)
1 cup mango juice
4 tablespoons olive oil
2 garlic cloves (crushed)
4 red peppers (crushed)
1 bunch basil leaf (shredded)
1 small bunch mint leaf (shredded)
2 onions (crushed)
½ teaspoon curry
½ teaspoon thyme
2 green peppers (crushed)
2 teaspoons brandy
Salt and seasoning to taste
sprinkles of sweet  corn
1 teaspoon diced fresh red pepper
Preparation
Make a marinade by combining the mango juice, brandy, olive oil, garlic, onion, peppers, curry, thyme, salt, seasoning to taste and the shredded leaves together. Process everything until smooth.
Meanwhile, rinse the chicken under cold water. Place in a large re-sealable plastic bag, pour in the marinade, seal the bag tightly, any excess air, place the bag in a bowl and refrigerate for two hours, turning occasionally. Remove the chicken breast from the bag and pour the marinade into a small saucepan. Bring to boil over high heat for one minute. Grill the chicken breast until the meat is firm and the juices run clear. Keep turning and basting with marinade for 8 to 12 minutes. Once halfway through the grill, – remove from grill, sprinkles the corn and diced pepper over the meat and serve.
Mango pudding
Recipe for 2 servings:
4 mangoes (ripe, peeled and sliced)
4 teaspoons baby cereal
6 tablespoons unsweetened yoghurt
1 tablespoon sugar
Preparation:
Place all the ingredients in a blender goblet and blend until a smooth puree is formed. Add extra cereal, if the mixture is watery. Serve as yoghurt pudding after refrigerating.
Mango ice cream
Recipe for 10 servings:
12 ripe mangoes (peeled and pitted)
2 cups heavy cream
1 cup icing sugar
3 tablespoons lemon juice
1 cup condensed milk
½ teaspoon salt
2 tablespoons grated lemon rind
Preparation:
Mash the mangoes into a smooth puree. Whip the cream with the sugar and pour into a large bowl. Combine the mango puree, lemon rind and juice, milk and salt. Fold in the whipped cream, mix thoroughly and pour into cups. Freeze and serve chilled as ice cream.
Mango drink
Recipe for 10 servings:
3 tablespoons honey
Little sugar to taste
Water
2 lemons (halved)
3 cups ripe mango juice
Preparation:
Combine the juice with honey sugar and water, stir, until the sugar dissolves. Add the halved lemon and serve chilled.
Grilled fish with mango delight
Recipe for 8 servings:
2 ripe mangoes (peeled and diced)
2 large red onions (diced)
5 tablespoons olive oil
1 cup fresh mango juice
½ cup fresh lemon juice
1 teaspoon minced garlic
1 bunch basil leaf (shredded)
1 teaspoon ground pepper
4 fresh tomatoes (cored and diced)
8 sword fish steak (or any other fish)
4 tablespoons vegetable oil
Salt and seasoning to taste
Preparation:
Mix the tomatoes, mangoes, onion, olive oil, lemon juice, garlic, mango juice and basil together in a bowl, including pepper, salt and seasoning to taste. Set aside and prepare the fish steaks (sword fish or any other good fish is ideal).
Brush the fish and pat dry with the vegetable oil, sprinkle little salt and pepper to taste over the fish. Sprinkle other seasonings of your choice and place on a grill rack. Grill until both sides are ready. Serve with the other mango delights.
Please follow and like us: