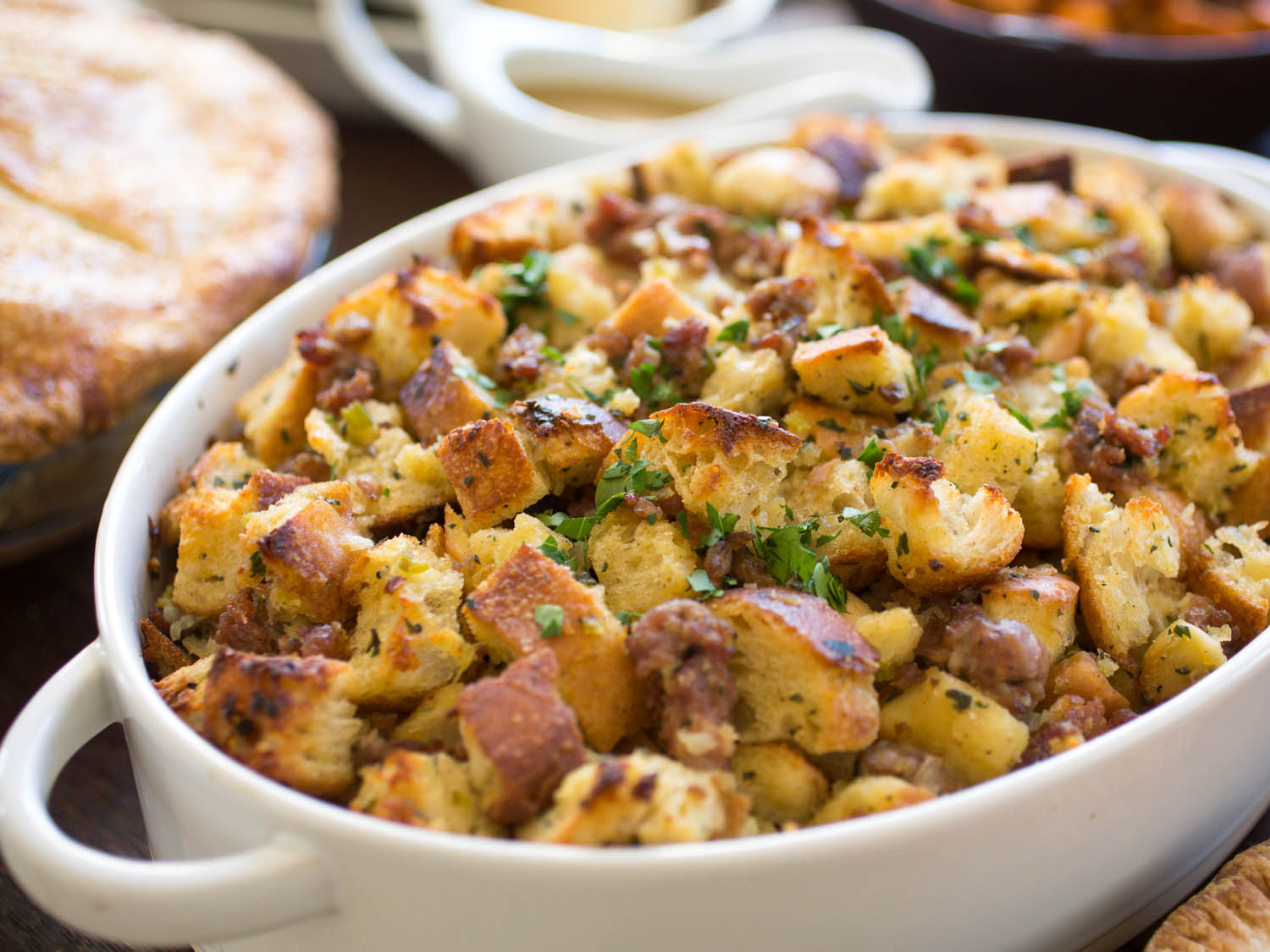 National Stuffing Day is celebrated every November 21st. It is said to be an ideal day.
Stuffing is a portion of food often associated with Thanksgiving Day, a holiday that is right around the corner.
Stuffing is so named because it is often stuffed into an animal or other food, such as a turkey or other poultry, fish, pork chops, and vegetables. Traditional turkey stuffing is usually made with dried bread, onions, celery, seasonings, spices, and herbs. Sausage meat, giblets, or oysters can also be used.
National Stuffing Day is best marked with Thanksgiving right around the corner, especially focusing on the delicious turkey stuffing that is usually used as a traditional part of Thanksgiving dinner.
Stuffing is a major player in the world of Thanksgiving, especially with the use of chicken and turkey.
Stuffing can take different shapes and sizes, there are no hard and fast rules about what it constitutes.
It can be bread, any kind of bread, rice, quinoa, and even matzo. It can be done with crusts of bread, vegetables, herbs, and spices.
Others include adding sausage, hamburger, tofu, oysters, egg, rice, apple, raisins or other dried fruits.
Others prefer to prepare a similar dish alongside the turkey using the drippings to moisten the dish. Either way, each preparation is a personal preference or family tradition. The difference is the first is called stuffing, but the latter is referred to as a dressing.  
There's only one hard and fast stuffing rule for stuffing and that is the mixture with some ingredients, yes, it cannot stand alone – it must be mixed with some ingredients.
It is, however, a known fact that the usual turkey stuffing consists of bread cubes or crumbs combined with onions, celery, salt, and pepper, depending on how it is liked.
The first known mention of stuffing was in the Roman cookbook, Apicius De Re Coquinaria, and numerous other names are often used interchangeably with "stuffing," such as "dressing". Most of the stuffing recipes in this cookbook included vegetables, herbs and spices, nuts and spelt (an old cereal). Some recipes also included chopped liver and other organ meat. 
In addition to stuffing the body cavity of poultry and fish, various cuts of meat are often stuffed once deboned and having a pouch or slit cut in them. A few examples of other meats frequently stuffed include pork chops, meatloaf, meatballs, chicken breast, lamb chops, and beef tenderloin.
Stuffing isn't limited to the butcher block. Vegetables are excellent containers for stuffing. Peppers, tomatoes, zucchini, and cabbage are just a few of the shapely veggies that make stuffing a fabulous part of a healthy delicious meal. 
Source – https://nationaltoday.com/national-stuffing-day/ , https://nationaldaycalendar.com/national-stuffing-day-november-21/ , https://www.hipnewjersey.com/national-stuffing-day/ , https://www.checkiday.com/005de02be1042514b9b8a7a72d054b45/national-stuffing-day
Please follow and like us: