Nigeria is a great country! All kinds of food, fruits and snacks can be found in this most populous black country in the World.
Tiger nut is said to be a popular delicacy in Spain where it is known  Chufa .
These same tubers  are popularly called 'Ofio' by the Yorubas,  'Aya' by the Hausas; and 'Imumu' by the Igbos, some also know them as 'Aki Awusa' .
I remember how we used to munch these nuts years back in  Lagos, we never really knew how healthy these nuts were!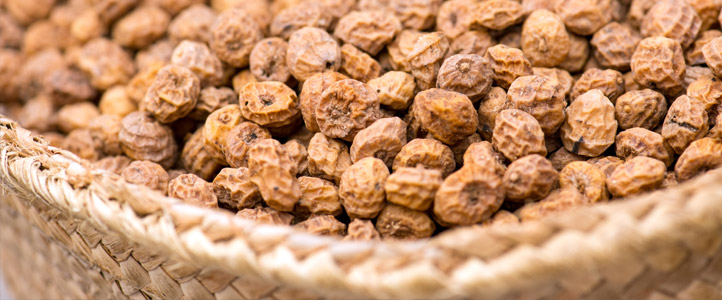 In Nigeria, many people enjoy them as snacks, these could be fresh or dry.
The consumption of these tubers are not only peculiar to Nigeria or West Africa, many people in North Africa apart from Spain relish these healthy nuts too.
Here in Africa, tiger nuts are  eaten in their fresh natural form  but  the tubers are consumed as a drink called chufa in Spain.
According to an internet report,  Chufa is a grass-like plant of the Trans-Saharan Island. It has cylindrical tubers of several species of black, brown and gold of 20 inches in height, lance-shaped leaves small spikes of green flowers. It is a native of the Mediterranean region and widely used in Spain where it is called "HORCHATA" and mostly used as juice to enhance the intestines.
Amongst other nutrients, tigernuts are  rich in fibre, with 20-30 per cent tiger-nut oil .
The oil is said to good and nourishing to the epidermis,  more so as it helps nullifies hard-knots in the stomach and acts as a coolant to hot flushes associated with premature menopause.
HEALTH BENEFITS OF TIGER NUTS
TIGER NUTS HAVE BEEN KNOWN FOR 400 YEARS AND ARE NOT ACTUALLY NUTS BUT THEY ARE KNOWN AS SMALL TUBERS.
REPORTS SAY THEY ARE HIGH IN FIBER, PROTEIN AND NATURAL SUGARS.
…Dry tiger nuts [ofio]
TIGER NUTS WHETHER THE FRESH OR DRIED ONES HAVE LONG BEEN RECOGNIZED AS HAVING HIGH ENERGY CONTENT OF SOLUBLE GLUCOSE AND OLEIC ACID.
ALONG WITH HIGH CONTENT LIKE STARCH, FATS, SUGARS, AND PROTEINS THESE CREAM AND CHOCOLATE COLOURED FRUITS ARE SAID TO BE RICH IN MINERALS SUCH AS PHOSPHOROUS POTASSIUM, CALCIUM, MAGNESIUM AND IRON.
TIGER NUTS BELONGS TO THE FAMILY OF 'CYPERACEAE'.
THEY USUALLY  PRODUCE RHIZOMES FROM THE BASE AND TUBES THAT ARE SOME WHAT   SPHERICAL.
 tiger nuts milk… simply nutritious!
THESE NUTS  CAN BE EATEN RAW, ROASTED, OR GRATED . THE  CAN ALSO BE SUBJECTED TO OTHER PROCESSINGS.
BLENDING THEM TO EXTRACT THE NATURAL MILK IS ALSO A VERY GOOD IDEA!
THEY ARE A GOOD SOURCE OF FOOD FOR HUMAN AND ANIMAL BECAUSE OF  THEIR HIGH LEVEL OF PROTEIN, MINERAL, CALCIUM AND VITAMINS C AND E .
TIGER NUTS MILK ( ALSO  KNOWN AS HORCHATADE CHUFAS) IS A GREAT SUBSTITUTE FOR COW'S MILK.
TIGER NUTS ARE SOLID SOURCE OF MAGNESIUM.
TIGER NUTS CAN HELP CONTROL BLOOD PRESSURE.
 IT IS FULL OF  AMINO ACID WITH ARGININE BEING  THE MOST PLENTIFUL.
ARGININE HAS BEEN SHOWN TO AID IN CONDITIONS THAT ARE CAUSED OR MADE WORSE BY RESTRICTED BLOOD VESSELS SUCH AS CHEST PAIN, CLOGGED ARTERIES.
TIGER NUTS GIVE PLENTY OF POTASSIUM BOOST.
TIGER NUTS ARE ALSO KNOWN  GOOD NON-MEAT SOURCE OF PROTEIN.
Please follow and like us: