This story is all over the social media but it can help some one to be more careful!
RECENTLY A BOY DRANK HIS MOTHER'S  PERFUME AND HIS MOTHER GAVE HIM ALMOST A JAR OF PALM OIL., WITH HOPE THAT THIS WILL NEUTRALIZE  THE EFFECT! BUT NO, THIS DIDNOT SOLVE THE PROBLEM!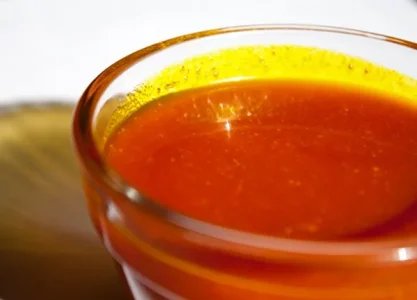 In another development, a two year old  boy drank HYPO bleach kept in a TABLE WATER BOTTLE unknowingly!!! Then the panicky but IGNORANT mother  GAVE  HIM PLENTY OF PALM OIL!
The child aspirated the oil as the fumes of the palm oil entered the lungs and this affected the  child, hence he could not breathe well.
He was rushed to a General Hospital  and was there for a couple of days on oxygen but he did not get better.
He was later  transferred to a Private hospital with specialists but he still died.
This is the  SHOCKER   – the child did not die from drinking the HYPO BUT FROM THE WRONG SOLUTION GIVEN…….THE PALM OIL…..
If you put it in another way, it simply means the child died from IGNORANCE of sincere people!!
GIVING ORDINARY WATER OR MILK TO A CHILD TO NEUTRALIZE THE ACID of the bleach without INDUCING FORCEFUL VOMITING is always a better and great idea!
Please take note! Palm oil is a dangerous first aid solution that kills.
In a situation like this  where a  child drinks any dangerous liquid or substance, it is advised to  give plenty of water or milk to the  child instead of palm oil.
Please follow and like us: