It is no longer news that Harry and Meghan are happily married! Hmmmn, May 19 will always remain a memorable and unforgettable day!  Henceforth, they will now be addressed as the Duke and Duchess of Sussex.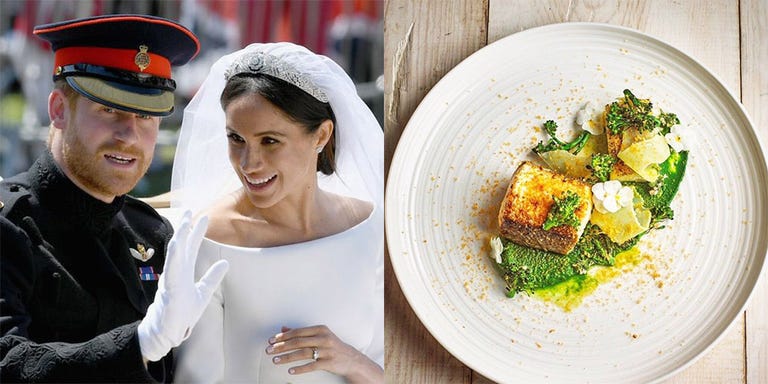 With all the razzmatazz, GOURMETGUIDE234.COM is however concerned about  the kind of food the guests were served!
To begin with, guests were served a selection of savoury canapés, including:
Scottish langoustines wrapped in smoked salmon with citrus crème fraiche
Grilled English asparagus wrapped in Cumbrian ham
Garden pea panna cotta with quail eggs and lemon verbena
Heritage tomato and basil tartare with balsamic pearls
Poached free range chicken bound in a lightly spiced yoghurt with roasted apricot
Croquette of confit Windsor lamb, roasted vegetables and shallot jam
Warm asparagus spears with mozzarella and sun-blush tomatoes.
Rather than having a formal sit-down dinner, a selection of bowl food was distributed.
The wedding cake featured an elderflower syrup made at the queen's residence in Sandringham from the estate's own elderflower trees and was decorated with Swiss meringue buttercream and 150 fresh flowers.
Sweet canapés and savoury dishes including champagne and pistachio macaroons, orange crème brûlée tartlets and miniature rhubarb crumble tartlets were also served.
The food was prepared by a team of 25 chefs working under the leadership of Mark Flanagan with as many ingredients as possible sourced from local farms.
The lunchtime reception featured speeches from the Prince of Wales and the Duke of Sussex himself, with the Duke of Cambridge acting as compère for the occasion.
The guests enjoyed a lunchtime reception hosted by the queen., with the following  – a selection of savoury canapés.
Langoustines wrapped in smoked salmon with citrus crème fraiche.
Asparagus with mozzarella and sun-blush tomatoes.

Guests were also served a selection of bowl food, including:

Fricassee of Free Range Chicken with Morel Mushrooms and Young Leeks
Pea and Mint Risotto with Pea Shoots, Truffle Oil and Parmesan Crisps

Ten Hour Slow Roasted Windsor Pork Belly with Apple Compote and Crackling..
Sweet canapés were equally available, they include:

Champagne and Pistachio Macaroons
Orange Crème Brûlée Tartlets
Miniature Rhubarb Crumble Tartlets.
For  the drinks, guests were served Pol Roger Brut Réserve Non Vintage Champagne, and a selection of wines.
A range of soft drinks was also served,  these. They are apple and elderflower mocktail, made with the same elderflower syrup as used in the wedding cake, and Sandringham Cox's apple juice.
Please follow and like us: