Today is World Food Day!
Across the world many are observing this annual event in honour of the United Nations Food and Agriculture Organisation (FAO).
This international body was set up on this day in 1945 to fight the social evil of world hunger
For 2019, the theme for this year's event is – "Our Actions Are Our Future, Healthy Diets for A #ZeroHunger World."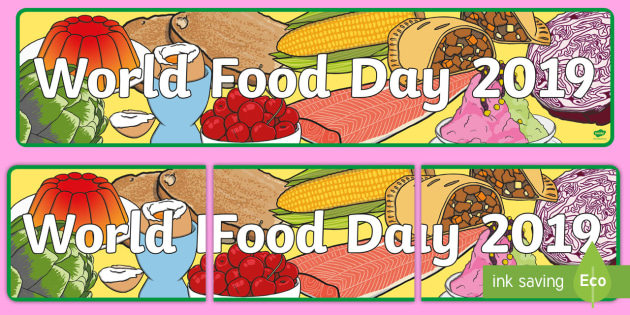 With this theme in mind, it is pertinent to take a swipe at the Nigerian food supply framework as we push to meet the 'zero hunger' goal of the UN-mandated Sustainable Development Goals.
The Nigerian Perspective is key!
In a country where food and nutrition, as well as agriculture, is meant to supply adequate nutrients to the populace, malnutrition is most associated with low availability of foods in rural markets, especially diverse, nutritious foods, and poor accessibility or affordability to such foods.
This may be due to poor distribution systems and inadequate infrastructure to maintain the quality of perishable foods. Other contributing factors include poor understanding of what comprises a good age-appropriate diet and why it is important to consume such a diet; and cultural norms, tastes, and traditions that affect food demand and desirability.
For Nigeria to stand on a good path to food security, it is expedient to embrace a two-pronged strategy, to overcome these issues: (1) in the short term, address household and community food insecurity as it occurs; and (2) strengthen agriculture and market systems over the longer term.
 To achieve this, immediate assistance must be made available to areas affected by severe food shortages and, at the same time, a systems-strengthening approach must be employed to improve year-round food availability—within households and local markets—in areas that have seasonal food shortages.
In line with this thinking, the steps highlighted below are oriented toward supporting both short-and long-term interventions.
We must develop the infrastructure for communication channels for farmers to access information, such as the prices of inputs and outputs or potential weather events. Leveraging technology, such as text messaging or phone applications, is also possible, as is using agricultural extension agents to provide action-oriented nutrition-sensitive agriculture messages for farmers.
These systems would have a systematic review and description of the agriculture, health, and nutrition information platforms; including details, such as catchment areas, numbers of targeted end-users, gender of targeted end-users, the specific actors that generate information on these platforms, and the extent to which information is shared is being taken up by end users.
We must ensure that generators of messages are aware of issues related to nutrition to enhance nutrition-related messages and build capacity at all levels.
Additionally, building the capacity of the ADP system, NiMet, River Basin Development Authorities, and State Emergency Management Agency (SEMA), and facilitating their collaboration would ensure that important weather-related information reaches community members to assist with year-round planning and weather shock mitigation.
We must also develop a proper storage infrastructure to improve the composition of diets during the off-season. Prioritizing vegetables and fruits, particularly, would increase the availability of nutrient-dense foods in markets for more months of the year. It could help make these foods more affordable, in addition to creating an incentive for farmers to increase production.
We can strengthen market systems by linking farmers to markets to enable them to sell surpluses at reasonable prices and by establishing protocols that improve food safety in markets. Specifically, the Nigerian Government can—
Support or provide trainings for farmers to improve their capacity to supply larger formal markets and to receive better payment terms that enhance the growers' ability to understand and meet industry specifications; consequently, improving food safety, increasing incomes and—with guidance through agriculture and health information systems—improve purchasing power that enables them to afford good nutritional choices and outcomes.

Improve food and market safety by training health inspectors and empowering them to provide proper oversight and enforcement of market regulations.

Support behavior changes communication to help traders and other relevant stakeholders understand the importance of food safety and proper hygiene. Cleaner and better-regulated markets will improve the food system and, consequently, the quality of foods consumed, reducing the risk of contamination.
It is possible to win the war against malnutrition and insecurity by following a well-structured path with proper funding from relevant stakeholders. With the concerted focus on creating a healthy society and meeting the UN Sustainable development goals; Nigeria will have many reasons to celebrate come next year's World Food Day.
Please follow and like us: